Explore Ancient Art & World Heritage Sites in Kathmandu, Nepal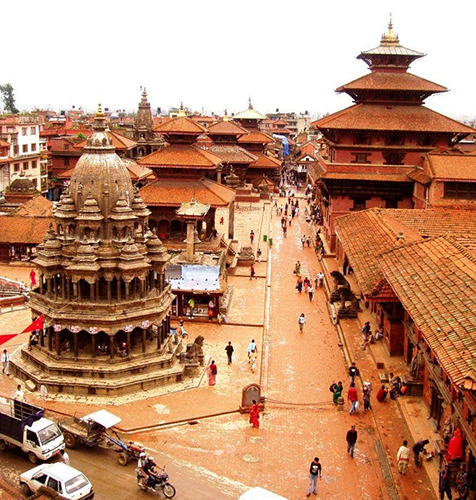 When it comes to a place full of crafts, people all over the world has only one place in their mind i.e. Kathmandu. Kathmandu, the city of Temples is the capital city of Nepal. Tourists who visit Kathmandu say that they have never been experienced so much beauty and art in one place. Tourism is one of the major businesses of Kathmandu valley. Nepal has 10 UNESCO World Heritage Sites out of which 7 are situated in Kathmandu. Those sites which are widely known for their natural beauty, artistic architecture and cultural aspects are followed as below.
Kathmandu Durbar Square
Kathmandu Durbar Square is around in the middle of Kathmandu valley which has Hanuman Dhoka, 9 storey Basantapur Tower, Panch Mukhi Hanuman Temple, Degutale Temple, Nasal Chowk, King Mahendra Memorial Museum, Tribhuvan Museum, and Taleju Mandir in its neighborhood.
Hanuman Dhoka was the former palace of Malla kings and later it was handover to Shah Dynasty. Previously Shah Kings of Nepal used to live in Hanuman Dhoka Palace and later on they shifted to Narayanhiti Palace. Museums remain open for all 7 days in a week for the tourists and visitors.
Pashupatinath
Pashupatinath temple is famous all over the world. It is a temple made in the name of Lord Shiva. Mainly people from India and Srilanka visit Pashupatinath Temple during Shivratri. The temple is known to be its holiness towards Hinduism so people outside Hinduism are not allowed to enter the temple. It lies 5 km away from the east of Central Kathmandu.
Swayambhunath
There is a saying, "Those two eyes of Swayambhunath see the justice and injustice clearly". Buddhist from all around the world regards Swayambhunath as the holiest place. It also provides a clear majestic view of the entire Kathmandu valley. It lies 3 km away from the east of Central Kathmandu.
Boudhanath
Boudhanath is an epitomization of Tibetan Buddhism. It was being built by Licchavi King Mandev In 5th century. It is considered as the world's biggest Stupa that has been built in a stepped octagonal base. There are many Temples and Gumbas surrounding the Boudhanath. The fragrance of incense sticks and candles make the place more enchanting. It lies 8 km away from the east of Central Kathmandu.
Bhaktapur Durbar Square
Bhaktapur also was known as Bhadgaon or Khwopa is one of the three districts inside Kathmandu valley which is regarded as the place of ancient arts and craftsmanship. Bhaktapur Durbar Square is the clear example of Bhaktapur's beauty. Golden gate, Nyatapola Temple, Fifty-five windowed Malla palace is the legendary feelings of pride of Bhaktapur.
Patan Durbar Square
Patan Durbar Square is situated in Patan. Patan is also called Lalitpur. Some of the major attractions of Patan are Mahaboudha Temple, Krishna Temple, Big bell, Mulchowk, Pillar of Yogendra Malla, Bhimsen Temple, Rato Machhindranath Temple etc. A true artistic example can be easily seen around Patan Durbar Square.
Changunarayan
Changunarayan is a temple of Shiva. Shiva is also known as Narayan and the place is called Change, hence the name remained, Changunarayan. A stone inscription of 464 A.D and other artistic architectural crafts in Changunarayan temple clearly show the ancient history of Kathmandu. The temple also possesses statues of Vishnu's 10 incarnations as well as statues of other Gods and Goddess. The majestic view of Manohara River adds more beauty to its surrounding. It lies 15 km away from the east of Central Kathmandu.
These were the 7 UNESCO Heritage Sites that are situated in Kathmandu Valley. Other 3 heritage sites that are in Nepal are Lumbini, Sagarmatha National Park, and Chitwan National Park.
Thanks for reading the blog post up to the end. If you have the plan to travel to domestic destinations from different locations, by bus we the Admark Tours & Travels Pvt. Ltd. is an authorized agent to book, air tickets, bus tickets for tourist coaches.
Leave your Feedback
---