Yeti Airlines ATR 72-500 joined the sector Kathmandu - Pokhara, focusing Festival Season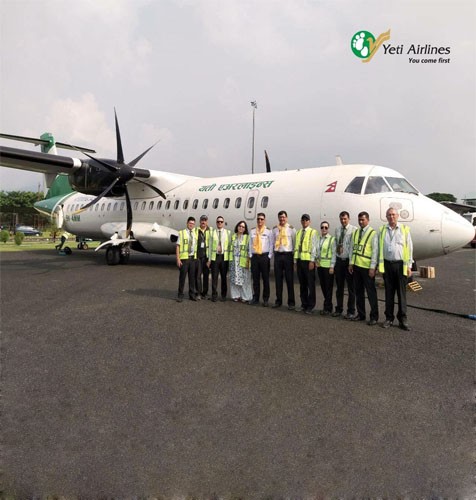 Everyone loves to fly with Yeti Airlines. The crew members are humble and friendly. Yeti Airlines have started the journey in Nepal as a private company since 1998. From that time till today yeti airlines have always tried and succeed to bring safer and comfortable flights to their passengers.
A domestic airline company (Yeti Airlines) recently started to carry more passengers from Kathmandu - Pokhara - Kathmandu with new ATR 72-500 aircraft focusing on Festival Season.
In recent news, the company officials announced that, they begun flights in the Kathmandu - Pokhara - Kathmandu sector with their new ATR 72-500 aircraft.
The newly developed aircraft will operate around two flights daily starting from Wednesday, 3rd October 2018.
As the tourist season is beginning, and biggest Hindu festivals are lined up for next month, so the number of passengers will also increase gradually. It will be the benefit to both parties traveling and operating.
Yeti airline is also one of the renowned airline company in Nepal, carrying thousands of passengers to different domestic airports every single day with excellent services.
In the past, for the sector from Kathmandu - Pokhara - Kathmandu, they were regularly carrying the passengers with 30-seated Jetstream 41 aircraft.
The more bookings will be opening in the coming days, with the capacity of new aircraft. The company officials said, they will be carrying the limited number of passengers with new aircraft, as the runway structure may not support to conduct flights with full capacity.
Another private company, Buddha Air is operating daily flights with ATR-72 already.
They have three ATR-72-500 operating flights, and regular six Jetstream 41 aircrafts carrying thousands of passengers every day.
Their sister company Tara Air, which is operating regular flights to remote airports of Nepal to support carrying goods, as well as passengers from the airport like Jomsom from Pokhara, Lukla and many more others from Kathmandu airport.
Booking
Thanks for reading the blog post up to the end. If you have the plan to travel to domestic destinations from different airports, we the Admark Tours & Travels Pvt. Ltd. is an authorized agent with e-ticketing facility.
We facilitate our regular customers to book tickets via phone call, travel and pay later facility. If you are reading from abroad, planning to visit Nepal, you could get in touch from our facebook page or drop us an email via our inquiry form. If you have a group of people needing booking for the domestic flights, we will provide a special discount and best pricing deals to you.
Leave your Feedback
---