Annapurna Base Camp Trek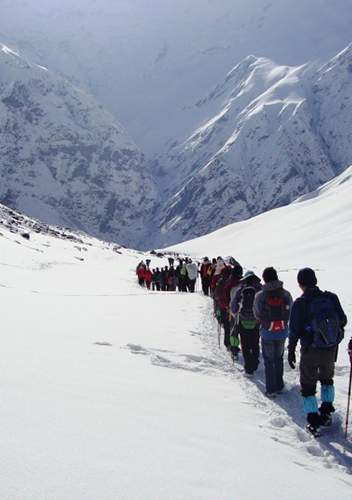 Annapurna is a geological formation in the mountains which lies in north-central Nepal. The Annapurna "I" main is the 10th highest mountain in the world. Annapurna is the Sanskrit word which translates in English as "Goddess of Harvests." The Annapurna base camp trek is one the most well-known trekking packages in Nepal.
The Annapurna Base Camp trekking route takes you through ancient ethnic communities of Gurungs, Magars, and Thakalis. You will also get to observe the amazing natural resources and spectacular diversity of the Annapurna region.
When to trek?
Autumn (September to November) and Spring (March to May) seasons are the best time to trek to Annapurna base camp.
Would it be difficult to trek?
Well, it depends on the trekker. If you are active and healthy enough to execute the task, it won't be that much difficult for you to trek.
Where the Trek would start?
From Kathmandu, you have to travel to Pokhara. From Pokhara, you have to go to Nayapool where your trek would start.
What is the maximum altitude?
Annapurna base camp is at 4130 m.
What should I take with me?
Well, it's up to you, but we suggest you pack lightly. You should aim for around 10 to 15 kg. Don't worry about your shape but to experience the trek you should be healthy. Slowly and steady is the motto.
Do I need a guide?
Trekking alone isn't that easy. So yes, you do need a guide. A well-experienced government approved guide can make your trip safe and joyful. So hiring a guide is compulsory.
How should I prepare myself for the trek?
Watch videos, read books, trek locally, make friends with those who have already been the part of these kinds of treks and always be foresighted. Keep up with the motivation.
Equipment Rental
We advise you to bring all of your clothing and kinds of stuff from where you come, however, in Kathmandu as well as in Pokhara, there are many shops to buy and rent trek related equipment. If you don't want to bring form your home. You can rent them here.
Here at Admark travels we will play as your guide in each step and help you have fun and entertainment.
Guidance & Permit
Our team members are always ready to help you with any information you want for trekking on the Annapurna Base Camp. To know in depth about the information required to trek in that region, we recommend you to visit our office during business hours.
We help you to provide the access permit, which is issued by the government office upon filling up a form with required documents.
Pricing
The process takes some fees, for which we promise to provide the best of the best rates to our clients by directly dealing as an authorized agent with them to care our customers referred by us.
Contact
We recommend our customers to either make a phone call via our 24x7 support number from the top of the website. If you live abroad, you could contact us on our facebook page, inquiry via our contact us page to drop an email up to our inbox.