Ghorepani Poon Hill Trek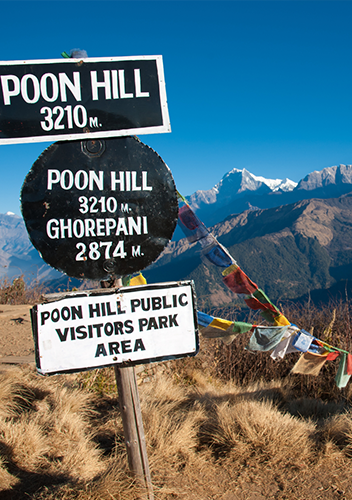 Ghorepani Poonhill trek is one of the famous treks of Annapurna Region for which people from all around the world visit Nepal on a monthly basis. It's a short trek which won't be more than 5 days. Mount Fishtail, Mount Dhaulagiri and Annapurna Range can be clearly seen from the Poonhill. You will also get to see natural flora and fauna. People in this area are friendly and helpful. So a trek to poonhill should be on your bucket list.
Where the trek does start?
From Kathmandu, you will travel to Pokhara. After reaching Pokhara you will head towards Nayapool. From there your real trek starts.
What is the duration of the trek?
You can take as much time as you want but usually, the trek ends at 5 days.
Where is Poonhill?
It is at the height of 3210 meters.
Is a guide needed?
A well-trained guide would be very helpful and safe for your trek. So it's important to take a guide.
Equipment Rental
We advise you to bring all of your clothing and kinds of stuff from home, however, in Kathmandu as well as in Pokhara, there are many shops to buy and rent trek related equipment. If you don't want to bring form your home. You can rent them here.
How much should I pack?
It depends upon you. If you can carry up to 15 kg, you can take 15kg. We suggest you travel lightly.
If you wish to trek to Ghorepani Poonhill, feel free to contact us. We will provide you best assistance.
Guidance & Permit
Our team members are always ready to help you with any information you want for trekking on the Ghorepani Poon Hill Trek. To know in depth about the information required to trek in that region, we recommend you to visit our office during business hours.
We help you to provide the access permit, which is issued by the government office upon filling up a form with required documents.
Pricing
The process takes some fees, for which we promise to provide the best of the best rates to our clients by directly dealing as an authorized agent with them to care our customers referred by us.
Contact
We recommend our customers to either make a phone call via our 24x7 support number from the top of the website. If you live abroad, you could contact us on our facebook page, inquiry via our contact us page to drop an email up to our inbox.