Malaysia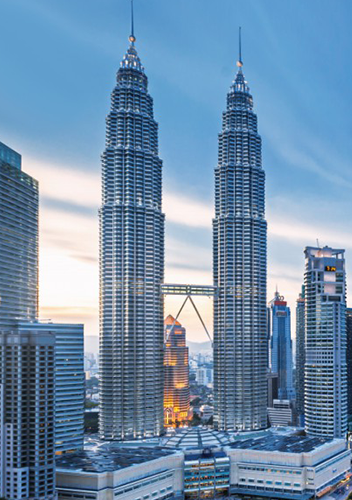 The Federation of Malaysia is a country situated in Southeast Asia. With a population of over 30 million, Malaysia is the world's 44th most populous country.
Malaysia is mainly categorized into two geographical regions. First one in Peninsular Malaysia and the second one is East Malaysia. Tourists from all around the globe visit Malaysia for various reasons.
Moderate Climate
The Malaysian climate is a thing to talk about. The temperature in there is so moderate that people often outside Malaysia refer to Malaysia as nature's country. You won't get cold, and you won't feel the too much hot temperature in there.
Cultural Diversity
There is a saying which goes like "Malaysia, a true Asia" because of its cultural diversity. Cultures from all around Asia could be collectively found in Malaysia.
Sepilok Orangutan Rehabilitation Center
A place where orangutans are kept cured and nurtured.
Penang National Park
Penang National Park is a place to visit for the entertainment. You can have a nice time with your family doing a lot of stuff in this park.
Batu Caves
Not so far from the Kuala Lumpur, situated the Batu caves consisting Hindu Pilgrimage site and wildlife conversation zone which are the Malaysian national treasures. Thousands of tourists visit these places while they are in Malaysia.
Blue Mansion
With 33 rooms and 220 windows, there is a mansion widely known as the Blue Mansion of Malaysia. This is the most photographed building in the George Town.
Ramayana Cave
The most famous cave in Batu is Ramayana Cave. People believe that this cave has been the part of the Indian epic event "Ramayana."
National Museum
The National Museum carries the historical and cultural artifacts which have been the major destination for tourists.
Whether it's the Tawau Hills Park or Agop Batu Tulung, Sabah Museum or Pinang Peranakan Mansion Malaysia is one of the few countries in the world with most numbers of tourist destinations.
One should visit Malaysia not just for entertainment but for appreciating cultural values too.
Booking
We use a lot of modern popular online platforms to book hotels, flights tickets to our customers going on a tour planned by us. We promise to provide the best of the best rates to our clients by directly dealing as an authorized agent with them to care our customers referred by us.
As we have mentioned in other articles as well, we provide book, stay, return and pay later facility to a large number of our regular customers.
Contact
We recommend our customers to either make a phone call via our 24x7 support number from the top of the website. If you live abroad, you could contact us on our facebook page, inquiry via our contact us page to drop an email up to our inbox.