Singapore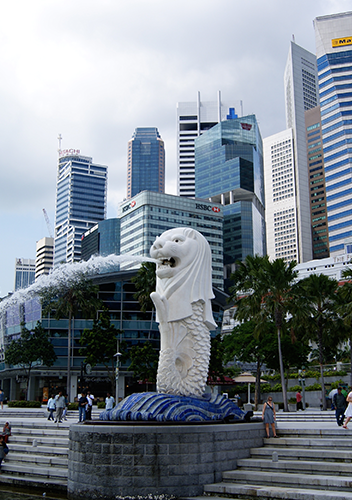 Singapore is a sovereign city-state and island country in Southeast Asia. With a population of around 5.6 million (according to the census of 2017) Singapore ranks 9th on the UN Human Development Index with the 3rd highest GDP per capita. It is one of the World's most prosperous and tax-friendly countries. Singapore is widely popular for tourist destinations and thousands of tourists visit Singapore for the following reasons.
Easy Transportation
Traveling around Singapore is a matter of minutes all because of the easy, efficient and widespread transportation system. If you can reach a long distance within a few minutes then you would definitely want to try those means of transportation.
Asian Civilization Museum
A museum with the collection of historical, archeological, geographical and a lot of significant aspects, Asian Civilization Museum is one of the most to visit place in Singapore. This museum contains things that are more than 2000 years old.
Singapore Zoo
Nature and animal lovers would definitely love to visit Singapore Zoo. A friendly and peaceful interaction with the Orang-Utans is a sight to watch with joy. Close encounters with a lot of animals, birds, and insects, Singapore zoo provides memento to remember forever. River Safari, Night Safari, and Jurong Bird Park come with the package if you buy the multi-park ticket.
Indian Heritage Center
There is a place called little India in Singapore where you can meet a lot of Indians. People from India, Nepal, Pakistan, Sri Lanka, and Bangladesh usually go to visit this place for fun and entertainment. You can see a lot of Temples, Monasteries and hundreds of cultural artifacts in this place.
MacRitchie Reservoir
Calm, clean and peaceful MacRitchie Reservoir is a place to visit in Singapore. The clean and calm water in the reservoir gives you a peace of mind.
Former Ford Factory
On 15 February 1942, the British surrendered Singapore to the Japanese. So British people had to leave. While going they also had to leave the Ford Motors assembly plant. Now that plant is the home to an exhibition.
Buddha Tooth Relic Temple
Though the authenticity is debated, the Buddhist temple in Singapore is widely known as the holder of Buddha's teeth. So thousands of travelers go to the temple and pray.
National Orchid Garden
More than 60,000 plants are there in National Orchid Garden in Singapore where a nature lover would love to visit.
Universal Studios
A place for entertainment. Most of the Hollywood movies based on Singapore are being filmed in the Universal Studios.
Singapore Musical Box Museum
A place where antique music boxes are kept from which some of the boxes are more than 200 years old. One of the boxes was even destined for the Titanic but missed the boat.
Singapore National Library, Singapore Botanic Garden, Abdul Gafoor Mosque, Labrador Nature Reserve, Check Jawa Wetlands and many more other places are there in Singapore where a tourist could visit and bring some memories with him/her to home.
Booking
We use a lot of modern popular online platforms to book hotels, flights tickets to our customers going on a tour planned by us. We promise to provide the best of the best rates to our clients by directly dealing as an authorized agent with them to care our customers referred by us.
As we have mentioned in other articles as well, we provide book, stay, return and pay later facility to a large number of our regular customers.
Contact
We recommend our customers to either make a phone call via our 24x7 support number from the top of the website. If you live abroad, you could contact us on our facebook page, inquiry via our contact us page to drop an email up to our inbox.